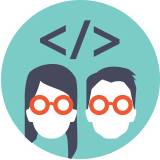 By developers, for developers
We know the difference between Java and Javascipt, and we know you're not in 'IT'. You'll only find real software development opportunities here.
Trawling through generic job classified sites isn't what you want as a developer: you're results-oriented, and you only want the most relevant careers.That's why we're different: we're a team of software developers and computer scientists, so when we carefully curate each job listing, we understand the technologies and the languages so we're confident what you see is a real technical job worth applying for.